Friday, 26 February 2021 | Admin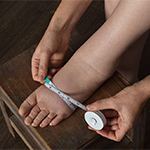 Lymphatic problems can lead to swelling and discomfort in the arms and legs known as lymphoedema. Jobst have an extensive range of compression stockings, tights and sleeves that are highly effective at relieving lymphoedema symptoms and preventing it from redeveloping. Learn about their available models and styles for lymphoedema, and how to best wear them to treat your condition.
1 Comment
Thursday, 28 January 2021 |
Admin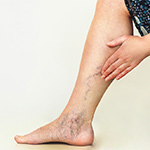 With so many models, styles and compression levels available, it can be hard to find the right pair of stockings for certain conditions. We've put together this guide to help you find the best compression stockings for your varicose veins.
Wednesday, 27 January 2021 | Admin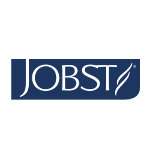 In 1950, Conrad Jobst founded his company to sell his innovative new creation: gradient compression garments. Learn about the company's continued growth since then, as well as their unwavering dedication to those with venous or swelling-related conditions.
Thursday, 8 October 2020 | Admin
No matter your condition, gender or style preferences, our range of Sigvaris Essential Comfortable Unisex Compression Stockings will offer you the ultimate in comfort and ease of wear. The ultra soft fabric glides smoothly on and off, wicking away moisture and promoting skin health.
Wednesday, 7 October 2020 | Admin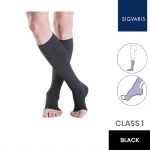 The Sigvaris range of Essential Thermoregulating Compression Stockings are designed to provide high levels of comfort in addition to effective compression therapy. Featuring a full cotton inner liner and temperature regulating properties, they are ideal for use by anyone with sensitive skin.
Wednesday, 7 October 2020 | Admin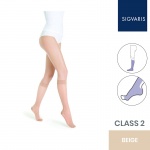 The Sigvaris Style Transparent Compression Stockings are the most discreet line in the Sigvaris range. While they are suitable for treating a range of venous conditions by utilising compression therapy, they are stylish and comfortable, mimicking the appearance of standard fashion stockings rather than medical ones.
Friday, 4 September 2020 | Admin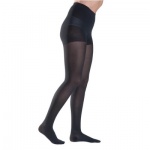 One of the most luxurious lines in the Sigvaris range, the Sigvaris Style Semitransparent Compression Stockings are designed to be effective and fashionable. They are capable of treating conditions like venous diseases and oedema, but appear more like traditional stockings or tights, rather than medical ones.
Thursday, 27 August 2020 | Admin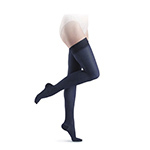 The Sigvaris Essential Semitransparent range is ideal for women who want compression stockings that compliment their style. In this simple guide, we break this Sigvaris line down to help you choose the right style and compression class for your needs.
Thursday, 21 January 2016 | Admin
Ladies, are you about to join the millions of women who have experienced pregnancy? For many, this is a wonderful time, a period when you feel the most feminine, the most excited, and filled with joyful expectation you glow with good health and vitality...and then there's your feet.
Wednesday, 6 January 2016 | Admin
If you are one of the 3.9 million people in the UK living with diabetes, then you are sure to know how important foot care is when living with this condition. Reduce blood supply to the feet is a common symptom of diabetes, leading to loss of sensation and posing a real danger of injures going unnoticed, taking significantly longer to heal and being susceptible to infection.