1 Comment
Thursday, 28 January 2021 |
Admin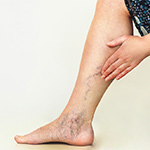 With so many models, styles and compression levels available, it can be hard to find the right pair of stockings for certain conditions. We've put together this guide to help you find the best compression stockings for your varicose veins.
Thursday, 21 January 2016 | Admin
Ladies, are you about to join the millions of women who have experienced pregnancy? For many, this is a wonderful time, a period when you feel the most feminine, the most excited, and filled with joyful expectation you glow with good health and vitality...and then there's your feet.
Wednesday, 6 January 2016 | Admin
Compression stockings? You need to wear compression stockings? You? But you're fashionable and stylish, you like to look your best, how on earth are you supposed to make a pair of thick, unflattering compression stockings look good? Easily, in fact!
Friday, 16 October 2015 | John
Find out more about our fantastic range of compression socks with this handy infographic. Whether you are looking for socks that will prevent discomfort and potentially threatening conditions while on a plane or socks for sport, Compression Stockings.co.uk has got you covered. Compression socks combine discretion with efficacy to ensure that your legs receive the support that they need.
Friday, 9 October 2015 | Admin
Gradient compression stockings are so effective because they've been made with the knowledge that the level of compression your calf or thigh needs isn't the same as what you ankle probably requires. Your leg isn't the same from top to toe, so neither should your stockings be!
Thursday, 8 October 2015 | John
One of the most common uses for compression stockings is to help manage lymphoedema, a condition where the body's lymphatic system fails to properly drain fluid from tissue, causing tissue and limbs to swell. In fact, compression stockings form a big part of decongestive lymphatic therapy – the most common treatment for lymphoedema.
Thursday, 8 October 2015 | Admin
Your brand new stockings have just arrived? Get in! ...But how?
Thursday, 8 October 2015 | Admin
Shin Splints got you out of the game? Best start pulling out those fancy pain relief pads, the heat rubs, the top of the line braces and....compression socks?
Thursday, 8 October 2015 | John
Graduated compression stockings is the full name given to the most common form of compression stockings by doctors. This is because there are several different types of compression stockings, and doctors have to be clear on what exactly they are using.
Thursday, 8 October 2015 | John
Nurses around the world work incredibly hard to give the best patient care possible. Part of the incredible work nurses do involves being on their feet for a long time, which can take its toll on legs. Here at Compression Stockings we want to help nurses be at their best so that you can continue to deliver great levels of care to patients.