​Sizing Jobst Compression Stockings
Wednesday, 7 October 2015 | Admin
Let's take a closer look at finding your perfect Jobst size!
Getting a perfect fit means making some accurate measurements first. We've already explained how to easily measure up your legs from top to toe in our dedicated blog post, so how does it work with Jobst?
Do the Jobst Right
Jobst try to go one – or five – better to find your perfect fit, because they take into account the circumference of your forefoot, heel, mid-calf, knee and mid-thigh! That might sound like a whole lot of work for you and your measuring tape, but it also gives you five more chances of not going for the wrong size, so we say good job, Jobst!

Don't let yourself be overwhelmed by finding these extra figures, every measurement is an extra helping hand for every stocking-seeking leg!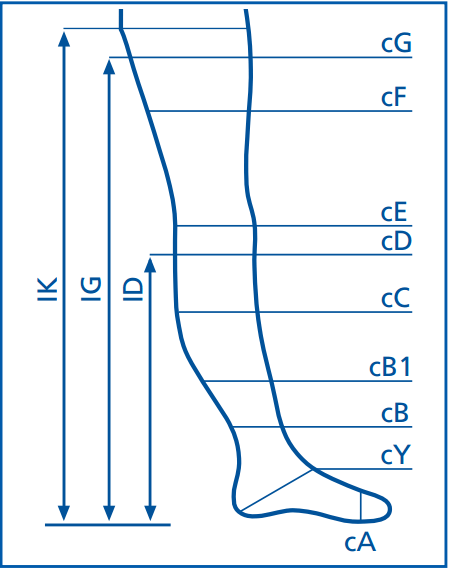 cG – Thigh circumference
cF – Mid-thigh circumference
cE – Knee circumference
cD – Below knee circumference
cC – Calf circumference
cB1 – Mid-calf circumference
cB – Ankle circumference
cY – Heel circumference
cA – Forefoot circumference
Dimensions of Style

Where you need to measure on your leg will be the same for every Jobst and most other brand models, but the numbers you need to fit different sizes will be slightly different each time. We recommend you keep your measurements handy somewhere so you can double check every time a new model catches your eye as there is always the possibility that where you were once a medium, a different style might now make you a small or vice versa, and unlike regular clothing, there really is no room for error when it comes to the squeeze of a compression stocking!
Take a look at the size charts, both Jobst, both using the same thigh-to-toe measurement range. The first is from the Jobst UltraSheer range and the second from Bellavar. Both may look similar, but a difference in their materials means that they don't follow the same sizing system. Sure, it might only be a centimetre or two, but your legs don't have that many centimetres to spare! If you find yourself between sizes we suggest picking the larger of the two as being overly-compressed can prove to be harmful. If you're struggling to find a perfect match in one model, don't worry, we have loads more to choose from!
Sizing Up the Competition
Every model in each brand tends to be different when it comes to sizes, where you might be large in one, you might be medium in another, so it's safe to say what size you are in Jobst definitely isn't guaranteed to be true of another brand. Keep your measurements close and your measuring tape closer, because perfect compression starts with finding your perfect size.
Job done? Head over to our online store and grab yourself a pair of Jobst stockings today!